I know these are simple, but I think that makes them so cute. Enjoy!

* Fabric or felt
* Needle
* Matching Thread
* Matching Button

Step 1
Using a circle template, trace out a circle using a marker. The size is completely up to you…the bigger the circle, the bigger the yo-yo etc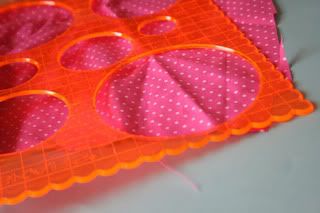 Should look like this
Step 2
Cut the circle out using fabric scissors
Step 3
Thread a needle with co-ordinating thread
Step 4
Using a running stitch, stitch around the whole circle…don't tie a knot at the start or finish !!!
Step 5
Now pull both ends of the thread until the circle tightens to look like this….now tie both ends in a knot
Step 6
You can now use the left over attached thread to sew on a button to cover the ugly center!